If you are new here you might not know that a lot of the posts on this blog are dedicated to that which is PLAY. Good old fashioned child's play. I believe play is the 'work' of children. It is how they learn and understand and make sense of the world they live in.
And I know that I am not alone, lots of Childhood 101 readers feel the same. So I invite you to join our new weekly link up, We Play.
Anytime during the week,

blog about a play space or play experience you've enjoyed at home, preschool, child care or kindy

, using just a photo or some words of explanation as well.
Grab the button code below and pop it into your post or sidebar. Include the text, "Come over to play at the Childhood 101 We Play link up" with a link back to Childhood 101 at the end of your post.
Pop over

each Tuesday

and add your link to the We Play post linky thingy. Please link directly to your related post, not your home page.

Visit others on the list to find new friends and be inspired by others who believe play is an important part of how children learn.

Each week I will choose my favourite post from the link up list and feature it in the next We Play post.
The very clever Kate of Picklebums has designed this special button for you to add to your post or sidebar too! Just grab the code in the box and paste it into your html (she also made the really cool banner above, if you would prefer to use it in your post, just drop me an email and I will send you back the code 🙂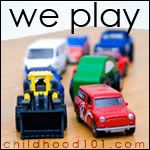 It's time to get playing!