Welcome to the Big, Beautiful Everyday Glamour Giveaway. This giveaway is BIG and filled with beautiful things but there is a twist! Prizes will be revealed during the whole Everyday Glamour week! I can however reveal that it will feature jewellry, beauty products and …
This Exclusive Bags Leather Carry-all in Sunshine Yellow, valued at $270.00!
Sue, the woman behind Exclusive Bags, is a busy Mum of two girls who, like many of us, juggles the demands of family versus work, let alone finding time for herself. She launched Exclusive Bags this year to change the common perception among Australian women that quality leather handbags are only the domain of well known European, American and UK design houses, which also bring with them price tags that make you think twice. Their bags ooze contemporary style, with a mix of classic elegance and every day practicality. Forget daggy nappy bags, check out the range of well designed options at Exclusive Bags, you will find something to suit every Mum, and the COLOURS, oh, I love the colours, and splash of colour sounds very glamorous to me!
How to enter (please read carefully, it will only take a second)
1. Write a blog post about your number one tip for adding a little glamour to your day OR try out and write about what worked for you from the tips and tricks our guest posters present to you. Extra points for a photo or other visual of your tip.
But I don't have a blog! No problems, just post your photo and words on the wall of our Facebook fan page.
2. Include a link and the button for the Everyday Glamour Challenge in your blog post. To do this cut and paste the following code into your html;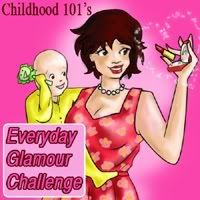 3. Leave me a comment on this post to tell me where to find your entry.
ENTRIES CLOSE WEDNESDAY, 16th December at 12pm, Perth, Western Australian time.