As part of my Types of Play series, I included a post entitled 'More Than One Way to Play,' about moving children who have a distinct preference for one type of play towards new discoveries in their play. For Immy, who loves imaginative play, I look for ways to extend her play preference to include new environments (like Little World) and inspirations from other forms of play (like Good, Clean Fun).
This week, this took the form of making a flowerpot house to sit beside the sandpit river which runs through the flowering jungle…


Which has led to snowy ranges for rolling down and mountainside swimming holes, and days and days of fun outdoor play in the sandpit.
It was so exciting to see so many new-to-We Play blogs joining in last week, welcome 🙂 I have had a few email requests for the We Play button code, so I am including it again here. You do not have to use the button in your post but I do ask that you at least include a text link back to the meme so that we can continue to build this fantastic learning through play community.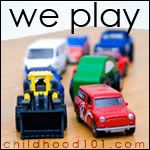 My favourite post from last week? Ooops, I have three! Sensory play fun, something special for early readers and something which looks good enough to eat!
Now it is your turn. What have you been playing this week???

Please read this post if it is your first time playing and remember, We Play is a place to link up actual play experiences. If you are viewing this post in a browser, you will need to click through to the actual post to see the We Play links.
Related Posts