This recipe is a hit in our family for many reasons…
It's yummy.
It's so quick to make.
It's easy to make ahead and reheat following after school dance class (or whatever other activity your children are involved in).
My daughter is involved in putting her own dish together at the table, it's a winner for getting fidgety kids to stay sitting at the table.
It's easy to vary depending upon your family's taste preferences…and what's in the pantry or fridge.
Chicken Burritos
You will need:
1/2 leek or small onion, finely diced – I have been using leek instead of onion for a while now because of AJ's breastfeeding issues and possible food intolerances
500gms chicken mince or chicken breast. If using whole chicken breasts, finely dice or mince in a food processor.
1x 400gm can borlotti beans or red kidney beans
To serve:
Tortillas or taco shells – we usually use a combination of both for our family. I currently use store bought tortillas but when I get some time I am determined to try Kate's Homemade Flour Tortilla recipe.
Your choice of other fillings. Although less than traditional, we will serve ours with a choice of;
Grated cheese
Diced tomato
Diced cucumber
Shredded lettuce
Tinned sweet corn
Sliced mushroom
Mashed avocado
Sour cream
To make:
In a little oil or water (I use extra virgin olive oil), saute the leek or onion in a pan over a low heat until soft.
Add the chicken and continue stirring over a medium-low heat until the meat changes colour completely.
Add 3 tablespoons of homemade taco seasoning and the chicken stock. Increase heat slightly and bring the mix to a fast simmer, stirring regularly as the liquid reduces. This won't take long so keep a close eye on it. You want the sauce to be slightly wet but not runny.
Serve with tortillas or taco shells and your choice of toppings.
Hints and tips:
I use this same recipe for a beef burrito version – substituting the chicken for beef mince (ground beef) and the stock for beef stock.
If I am preparing the meat early in the day for that evening, I take it off the heat before the liquid fully reduces so that when I reheat it on the stove it doesn't dry out.
This recipe is part of a Simple Family Dinners blog hop. You will find a heap of simple dinner ideas added to the board here on Pinterest over the coming few weeks, or try visiting the participating blogs listed below- just be aware that each day new recipes are being added so the blogs listed after Childhood 101 won't necessarily have their posts up yet.
What is your go-to quick and easy family dinner?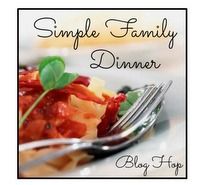 Enchanted Homeschooling Mom | Inspired by Family | Sun Scholars | This Reading Mama | Life by Ashley Pichea | In Culture Parent | Raising Life Long Learners | Glittering Muffins | Life at the Zoo | Octavia and Vicky | Kid World Citizen | Kitchen Counter Chronicles | Nomad Parents | Childhood 101 | Triple T Mum | Adventures in Mommydom | The Freckled Homeschooler | Teach Beside Me | The Chirping Moms | Discovering the World Through My Son's Eyes | So You Call Yourself a Homeschooler | Pickle Bums | The European Mama | The Golden Gleam | Forever, For Always, No Matter What | Motherhood on a Dime | Harrington Harmonies | Rainy Day Mum | Jenni Fischer | Cakes and Sribbles | Toddling Into Madness | Mermaids' Makings | Mud Hut Mama | Here Come the Girls | All Done Monkey | Small Potatoes | Little Artists