This post is by regular contributor Kate Fairlie of Picklebums.
I reach for the TV remote and the pile of DVDs when my resources are low. When I am tired or frustrated, when we are in need of a change of pace, or when I need time and space to re-group and start over.
At these times it is easy to switch on the TV but it isn't always the best choice. So I'm helping myself make a better choice. I'm filling my bag of tricks with ideas for other activities that can also meet these needs.
Drawing


Just a pile of paper and a big basket of crayons, drawing doesn't require much effort to set up and there is little mess to clean up.  It encourages us to sit down and slow down, and can be done together or alone. This is a great alternative when everyone is fighting and can't share.
Some drawing ideas: Draw Big, Crayola Twistables, Simple Outlines
Music
Turn up the music, lets dance! This always cheers me up and lifts me out of a grumpy mood. I tend to go for daggy 80's music with a good beat and then I dance around like crazy. If the kids don't join in, it's only because they are too busy laughing at me and everyone is suddenly feeling a lot less cranky!
Have a Bath


Water play is always a great way to soothe fractured nerves and ground cranky children and the easiest way to play with water is to fill the bath. Collect up some measuring cups and funnels for pouring and measuring, or how about bringing in your collection of plastic animals, or a doll to wash? You could even try making your own bath crayons for fun in the tub!
Find more water play ideas here and here.
Spoken Stories
Reading a story is a lovely quiet, calming activity, but the times when I want to turn on the TV are not the times I have the time or patience to read a story. So I get someone else to do the reading for me!
You can download spoken stories for free at Storynory and there are many wonderful children's classics available on CD. Some of our favourites include Imagine – a selection of stories by Alison Lester and a selection of Dr Suess Stories read by Rik Mayal.
Cubby House

Build a cubby house with a big sheet and a couple of chairs.  Or perhaps you own a pop up tent or have made Childhood 101's awesome teepee which will make this activity even easier 🙂 Throw in some pillows and soft toys or a couple of books. This is a great activity for those times when everyone wants me, but I am all played out.
Draw on my Back
You remember that game don't you? You draw a picture on someone's back and they have to guess what it is. We also like to do 'fairy dancing' on backs while listening to some music. The tip here is to get the kids to do it on your back, just try not to fall asleep!
If the weather is good (ie. not too hot or too cold) it is easy to send my kids outside. Simple outdoor activities like water painting, totem tennis, a treasure hunt, chalk drawing on the concrete, or even a good old fashioned run will help blow away the cobwebs and change the tone of the day.
Threading
Threading or other activities that require small fine movements such as lego, or peg boards (see more ideas here) can help settle the crazies.  This idea of threading felt shapes onto a ribbon snake is a lovely variation that is quiet and removes the threat of small beads escaping all over the place, which is not what you need when you are tired or frustrated!
What activities would you suggest as an alternative to reaching for the remote?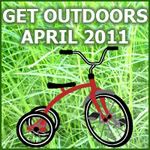 Join us for Get Outdoors month this April! Outdoor play everyday, regardless of the weather!